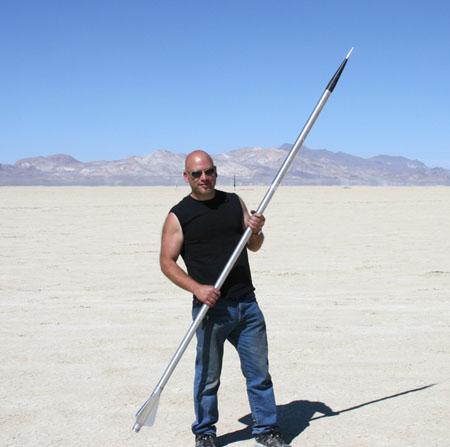 Mike Fisher, owner of Binder Design at BALLS 19 Blackrock, Nevada 2010.
Photo by Rick Clapp
We are the ongoing standard for high quality rocket kits and accessories. From our mid-power kits for beginners to high power rocketry, to high strength aerospace grade aluminum fin cans, to extreme motor casings like the 38mm L project pictured above, we have something for everyone. The most complete kits with the best instructions in the industry, hands down.
We've teamed up with Loki Research to give you a package deal on a motor hardware/fin can combo! Our Max Q fin cans are the only off the shelf fin system that will handle the G's and high mach numbers that these new high L/D motors can produce. It's the perfect combination and now with a huge discount if you buy both! Click here for the hardware deal: Loki Research Specials Page Click here for the fin can deal: 54mm Fin Can Special!